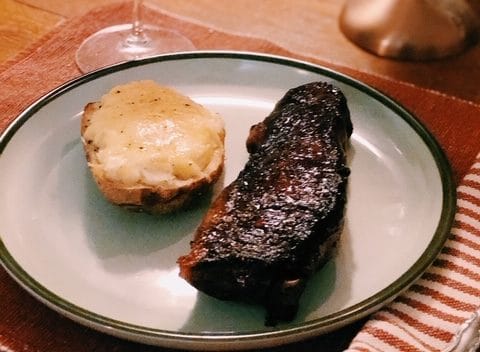 If you haven't heard, we now carry KC Cattle Company steaks, ground beef and hot dogs at The Creamery! We are so excited to support our fellow Weston farmers. Their Wagyu Beef is some of the best you'll ever have, and we couldn't think of anything more fitting for a romantic Valentine's Day dinner at home. These steaks are so special, they don't need anything but salt and pepper. So to jazz things up, serve them alongside some Cheesy Garlic Herb Twice Baked Potatoes featuring Garlic Herb Fresh and Aux Arcs.
Steak Ingredients:
KC Cattle Waygu KC Strip Steak
course salt
freshly ground black pepper
butter
Steak Directions:
Everyone likes to cook their steak a little bit differently so we'll leave that part up to you. (We seared ours in a cast iron skillet with butter and finished in the oven until medium-rare.)
No need for a rub, marinade, etc. Just a nice coating of course salt and pepper. Best cooked to medium-rare (internal temp of 130-135 degrees F). Let steaks rest for 10 minutes before serving.
You can buy Garlic Herb Fresh here and Aux Arcs here!
Potato Ingredients: